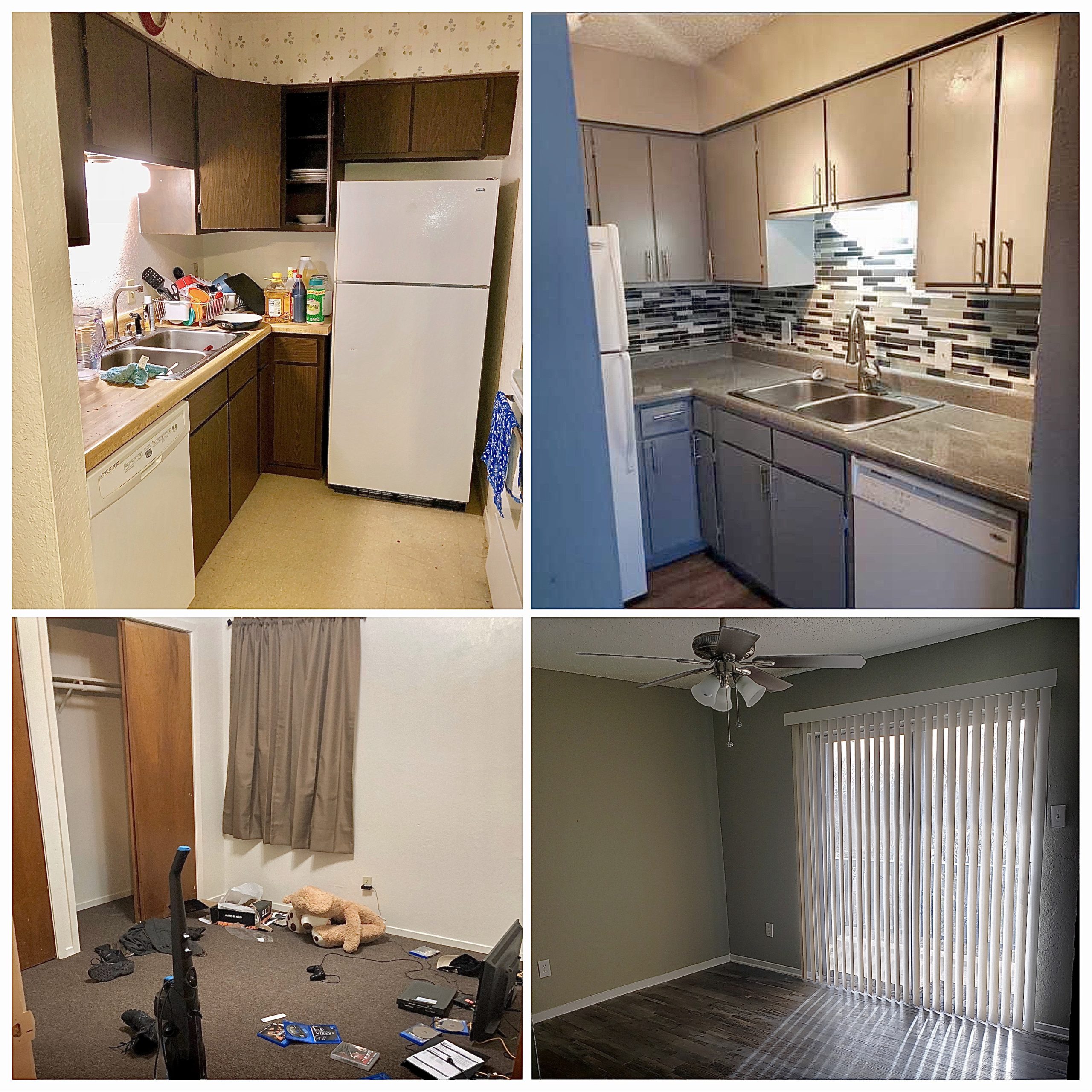 Today, on my mind is the value-add structure pending upon takeover of two multifamily apartment complexes we are closing on at the end of the month.
I'm so ready to go!
Value-add is the way we force appreciation on our apartment complexes. This can be accomplished by designating a period of time and using the cash flow along with the money we have built into the renovation budget to make value-add improvements. This "forces appreciation" because the property's value increases way faster than just holding onto the property for a long time and letting the gradual increase in rents and land value appreciate.
We can calculate the increased value of the property caused by forced appreciation by using this formula:
NOI (Net Operating Income) is the total income minus ALL expenses. Debt services are not included as an expense in the NOI.
Cap rate is short for Capitalization rate. This is the yield of a property over a one-year time frame assuming the property is purchased in cash and not with a loan (unlevered rate of return).
You can directly see the impact that adding a certain renovation has on the overall value of a property (sales price). For example, if you increased net rents by $10 per month per unit on a 50-unit complex at a compressed cap rate (once stabilization has occurred) of 8% that would add $75,000 in value to the sales price in just one year. Isn't that CRAZY AMAZEBALLZ AWESOME!?!?!
Imagine finding a complex 15% below market rents…think of the potential!
Now on to the kickass nature of this post. I'm going to give you a list of some of the things you can do upon takeover of a multifamily asset to force appreciate it in the first few years.
1 – Utilities – for apartments that are master metered, you can elect to submeter the utilities (electricity, water, etc.)and make tenants responsible for their own utilities or you can utilize RUBS (Ratio Utility Bill Back) which takes the current utilities the complex is paying and reassigning them back to tenants. Either of these reduces expenses and increases NOI.
2 – Application fees – credit check fees and background check fees (e.g. $35)
3 – Late fees and bounced check fees
4 – Pet fees including pet deposits and pet rent
5 – Parking fees
6 – Cable TV, price shop for lower rate
7 – Facilities fees such as renting clubhouses, cabanas, pavilions, etc.
8 – Laundry services – a company can take care of maintaining, servicing, and bringing in equipment, and they provide 20% of the income
9 – Water-efficient products such as low-flow toilets, faucet aerators, shower heads; these can be installed in every unit for under $100 total and will save at least 1/10 of the water bill for the entire complex
10 – Curb appeal and exterior renovations – although this will not directly translate into dollars, it will provide more traffic which can result in higher occupancy levels and less money spent on advertising. The nicer it feels to residents, the more security you add, the better everyone feels about where they live, and the longer they are going to stay. This helps with vacancy and translates to more money in your pocket.
11 – Unit upgrades – here's where you can really charge more per unit ($50-$100 per unit after renovations depending on your market)
12 – Office Upgrades – you always want to upgrade the office to one class nicer than the complex itself. This is the first thing people see when they come in and will be a big sell if it's comfortable, homey, and has something like hot chocolate chip cookies!
13 – Wasted space – if you see some unused space you better bet your ass you can add a ton to the value for sale by adding more units
14 – Amenities – depending on the class of apartment, amenities such as a gym, clubhouse, playground, benches, BBQ grills, chairs for the pool, etc. really are a must for class A properties. Depending on the complex's existing needs, neighborhood type, tenant mix, and similar factors, adding a couple well thought out amenities could increase income.
15 – Economic loss/ vacancy – you lose major money when there is vacancy but another way you lose income is through economic vacancy or loss to lease. This includes tenant non-payment. This is something that should be checked monthly upon take over, then quarterly after your renovation period is finished. If people aren't paying, you need to check with your property manager about how he/she is vetting new tenants. The 3:1 income requirement must be proven by current pay stubs, and they must have good credit. If they don't have great credit, you can still work with them, by charging an additional month's rent in the event that they don't pay for a month. The way my current property manager works is that if there is a missing payment by the third of the month late fees rack up and the tenant gets notice that we will be evicting them by the 15th. Then we have 15 days to place a new tenant with our ads, and rent is covered for that period.
16 – Using one internet company and/or energy broker – they can add additional income to the complex.
These are just some of the ideas I use but as things change, I find more solutions to making more money by adding value to apartments.
If you would like to be involved with learning hands-on or hands off how this works, contact me today. I would be happy to form a limited partnership with you!
Or Get qualified now for our next investment by clicking here:
If you want to learn about future investments or if you to partner on a project, book a call with me using the following link: