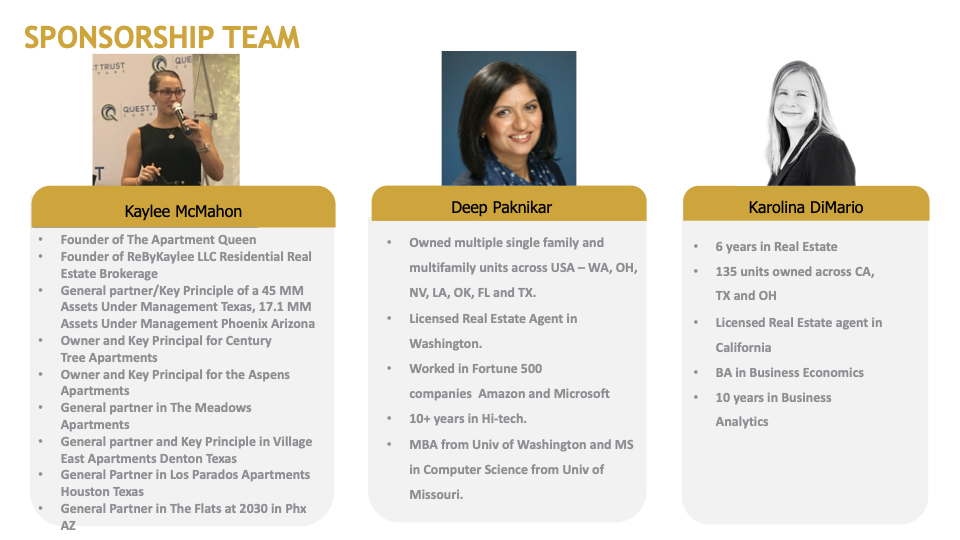 Women Taking over Apartment Investing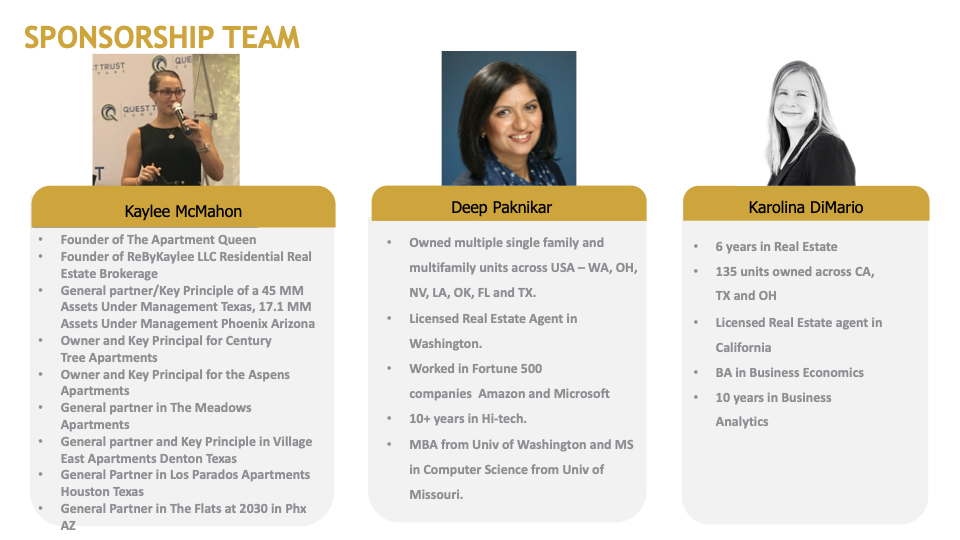 You may ask yourself-
What kind of skills do you need to purchase a Multifamily Property?
Why Purchase or Invest in Multifamily Properties?
WHY SHOULDN'T WOMEN BE JUST AS SUCCESSFUL AS THEIR MALE ASSOCIATES?
Kaylee McMahon and underwriting guru Karolina DiMario, in conjunction with a team member and General Partner Deep Paknikar, negotiate, fundraise, and manage a very forward-thinking group of female investors where they put their superpowers to work buying apartment complexes in Texas.
READ NOW about our experiences JUST getting across the finish line before the hard work even started on our most recent Fort Worth Deal. This deal was not possible without the funds of our limited or "passive" partners.
"Leuda May is the first Apartment that I have been part of the purchase of as a General Partner. Knowing residential real estate, there are a lot of big differences. [you need a whole new team] I have learned a lot so far and I am excited to keep learning. The best part is to be part of a women-only team that is helping other women invest in real estate and become financially independent."
–Karolina DiMario
"Women belong in all places of opportunity and value creation. Real Estate is no exception. With the new online world, there is more opportunity for women to collaborate on large scale investment projects. I believe the team's complementary skills, ability to support each other, is what got the apartment purchase to a close. It was a tough deal with many unexpected turns testing the team. No-deal was not an option for this team. Personally, it was a great learning experience working with a talented team of go-getters with a never say die attitude!" –Deep Paknikar
"YOU GET AN OPPORTUNITY TO EMPOWER WOMEN by giving Her Access to life-changing passive income from apartment investments=poverty reduction, Empowered Female Sponsor Team to add diversity in commercial real estate, Investment education through our technology, the SheVestApp. Understanding=EMPOWERMENT=NO MORE FEAR OF MONEY  like I experienced! My PERSONAL SOLUTION of cash flowing real estate was my way out of abuse"-Kaylee McMahon
Why is Apartment investing?
MAJOR tax BREAKS
Cashflow distribution plus Appreciation distribution. You can have your cake & eat it.
The stock market some consider legalized gambling- you instead may want an option to build reliable generational wealth
In DFW Multifamily Real estate has been the most recession resilient USA market in the last 30 years!
Why Should Women lead in Apartment Investing?
1- #1 Fastest way for HER to build wealth and Financial FREEDOM
2-Women THRIVE with Secure Investments
3-Women are better portfolio managers and investors historically.
4-$176.8 Billion Industry=Unlimited Growth for our Mission
To work with us please reach us at admin@theapartmentqueen.com or www.theapartmentqueen.com
To find out about future Investments take the Investor Questionnaire" at https://form.jotform.com/200207883604451
Apartment deal analyzer: https://theapartmentqueen.com/resources/advanced-underwriting-spreadsheet/
More about the team:
 Kaylee McMahon
Founder of The Apartment Queen, ReByKaylee LLC Residential Real Estate Brokerage, SheVestApp, PropertyManagementai,
General partner/Key Principle of a 45 MM Assets Under Management Texas, 17.1 MM Assets Under Management Phoenix Arizona
Deep Paknikar
Owned multiple single-family and multifamily units across USA – WA, OH, NV, LA, OK, FL and TX.
Licensed Real Estate Agent in Washington.
10+ years in Hi-tech.Worked in Fortune 500 companies Amazon and Microsoft
MBA from Univ of Washington and MS in Computer Science from Univ of Missouri.
Karolina DiMario
6 years in Real Estate
135 units owned across CA, TX, and OH
Licensed Real Estate agent in California
BA in Business Economics
10 years in Business Analytics
WE ARE LOOKING FOR MORE INVESTORS LIKE YOU PLEASE HIT THE forward
button  ABOVE to quickly send to a friend who can benefit from our strategic, forward-thinking strategies and investments.
Our ideal investor is usually one of these individuals: Ultimate passive investors-
WOMEN with
1031 exchange over 500k- High net worth individuals Doctors
Dentists Engineers
Individual who Worked for a major company over 10 years Real estate brokers/agents
Female athletes Aggie women
Women CEO/founder Socialites/society dutchess/heiress
Individuals with pension funds Endowments
Women-owned family offices or family offices/funds who support the social initiative to teach financial literacy to women
Angel investors supporting women
** GET Qualified for the next DEAL or GET more INFO NOW!
Kaylee McMahon
Apartment investor/ TREC® Brokerage LLC Owner